Friends and families were cooling down this summer by stepping into the hometown charm at their favorite hangout at Waukee Ice Cream Shoppe, located in Waukee's Historic Triangle Park business district.

 

It's a family friendly atmosphere that brings back memories of fun and laughter to frequent customers. You'll want to visit while we still have a few warm days this Fall.
Leah Hoppe, Clive, was sitting inside with her two kids, Lylah and Landon, and their friend Booker right after Walnut Creek Little League Practice 7U (7 and under) who play on a team named Storm. Landon and Booker were still wearing their jerseys and excited to enjoy their ice cream. Lylah tried mint chocolate chip for her first time, and smiled and said, "Best ever!" She said she usually orders Blue Moon ice cream. Landon ate Blue Moon ice cream, and Booker was eating Superman ice cream, in bright red, blue and yellow colors. Leah said she has lived for years either in Waukee or Clive, and they stop in about once a week. 
Hanging out together were high school friends who grew up in Waukee. I met them when they were on their way inside on a 90 plus degree day in July.  Alex Herrera, 17, said he now attends a boarding school to play soccer. Michael Steele, 17, Waukee High School, said his favorite was grape ice cream.  Nick Hope, 17, Waukee High School, said "It's cheap and really good ice cream and the malts are good." Jacob Heen, 17, said his favorite was Oreo Blitz. Ben Kurtzman, 18, now lives in Chicago attending Deerfield High School, said his favorite was also Oreo Blitz.  All friends said in unison that they have been coming there "Forever."  They pointed kitty corner to the other side of the street where the old location used to be, and remembers going there when they were younger too.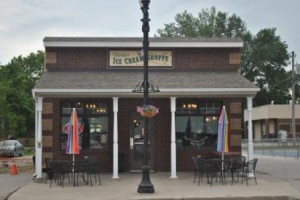 Owners Mike and Jean Schnoes bought it 10 years ago. Mike Schnoes said it was "fun to own." He described Waukee Ice Cream Shoppe as a "Locally owned neighborly ice cream shoppe for all ages."  Schnoes owns a CPA firm for 15 years. Six years ago he moved his CPA business to another beautiful stand alone building right next door to his ice cream shoppe. He has several employees that keep his business running smoothly. Schnoes bought the ice cream shoppe from his friend Darin Felt, who was serving in the National Guard and was being deployed in Iraq for one year. Felt had built the current brick stand alone building one year before he sold it.
Inside the ice cream shoppe are plenty of tables, and you can come right up to the ice cream counter and pick your soft serve ice cream and toppings. The back wall has a black chalkboard decorated in handwritten pastel writing listing pricing for soft serve, hard pack, shakes, malts, and blitz choices. Blitz flavors are M & M, Oreo, Butterfinger, Reese's, Heath, Crunch, Peanut Buttercup and Cookie Dough, and they offer 24 flavors of soft serve ice cream. Also listed are banana splits, floats, sundaes, smoothies, slushies and specialty ideas. Shoppe hours are open every day, Monday-Saturday 11:00 am -10:00 pm and Sunday 1:00 pm to 9:00 pm.
Waukee Ice Cream Shoppe
530 Walnut St, Waukee, IA 50263
515-987-8504