Any Iowa wine aficionado will assure you that you don't have to book a trip to Napa or Sonoma to taste great wine straight from the vine.
Blair Zachariasen, Certified Wine Specialist at Waukee Hy-Vee, is one such wine expert. She's a Certified Sommelier, a Certified Specialist of Wine and holds an Advanced Certificate in Wine & Spirits…and she encourages popping the corks of wine bottles made right around Waukee!
Iowa (Wine) Nice
Regional tastes and qualities of wine from around the U.S. are important and telling, just like regional identities of European wine. (Think world-famous growing areas like Champagne, Rhône Valley and Moravia.) This means Iowa's wines are unique and different from what you would find in other growing regions.
"Iowa wines are often typecast in the sweet category, but there's really a broad range of styles and flavors," said Zachariasen. "I truly believe there's an interesting Iowa wine for every wine drinker."
For beginning wine drinkers, Zachariasen recommends starting with Iowa's sweeter wines. (It's like how many coffee drinkers start with a latte or a mocha before trending toward a daily black coffee.) "Most novices find that something sweet is more approachable while they learn and train their palate," she said. "For those who dabble in drier wines, our cooler climate tends to create wines that feel a bit more rustic and have a bit more acidity. These make great food pairings and leave your mouth watering for more."   
Zachariasen also shared her picks for pairing with your summertime picnics and backyard barbecues. "The mouthwatering acidity of hybrid grapes, like Seyval Blanc, is crisp, thirst-quenching and lovely with lighter fare," she said. "Juicy and ripely fruited, slightly off-dry red blends like Jasper Winery's Behind the Shed Red and Covered Bridges Winery's Rattlesnake Red are great with burgers, brats and dogs on the grill."
Accessible, Affordable Sips
There's a huge movement right now for buying fresh and local, which is easy to do in central Iowa, thanks to our multitude of producers, CSA programs and farmers' markets. Take that concept to the next level and apply it to what you drink. Buying local wine means you know where the grapes came from and who produced them—all of which add extra value to the product. Plus, without the added shipping costs, local wine is easier on the pocketbook, too.
"Most local wine is very affordable! Most selections are between $10 and $15 per bottle," said Zachariasen. "Premium selections are occasionally priced slightly higher, but even then, they're rarely more than $30," she said.
Helpful Smiles
Standing in the wine aisle can be a bit overwhelming, as you attempt to decipher all of the creative names and eye-catching labels. This is why it can be extra beneficial to build a relationship with the seller, whether you're buying a bottle at a local winery, the neighborhood grocery store or a specialty wine shop.
"My best advice is to get to know your wine shop and the staff, and more importantly, let them get to know you," Zachariasen advised. "Regardless of your level of knowledge, you are the expert when it comes to knowing what you like. Ultimately, I want you to love the wine and come back to try more, so you shouldn't tell me what you think I want to hear. Don't be afraid to be clear about your budget and ask questions if you don't understand."
A good way to get to know your local wine experts is to talk with them in the relaxed tasting rooms of a local winery or by signing up for a fun learning event at a wine shop or grocery store. Plus, you can always tune into Zachariasen's podcast, aptly named "I Feel Vine." Available on iTunes, the podcast is all about the "power of positive drinking" and features discussions on alternative wine bottle closures, when to decant and how to prepare for a great (wine inclusive) celebration.
Local Wineries Worth a Visit
This is the perfect time of year for a day trip or a romantic weekend to escape into the cool ambiance and tantalizing tastings of local wineries. You can mingle with the growers, learn about viticulture (the study, science and production of grapes) and taste homegrown wine, straight off the Iowan vine! The following wineries are definitely worth a visit.
Penoach Vineyard
Nestled north of Adel in the Raccoon River Valley, a repurposed red brick barn from 1917 is a working family-owned winery, founded in 2006. Its covered patio is a picturesque place to sample wines—for free!—that have been crafted from the eight grape varietals tenderly cultivated on the property. No matter your tastes—tropical, crisp or fruity—one of their 14 wines will fit your fancy. From the dessert-worthy rich, raspberry wine to the dry Windmill Red Penoach, you'll begin to crave a date night with a bottle while the sounds from the vineyard's summer concert series fill the evening. The barn and grounds are often rented out for weddings and events, and the high quality of wine is maintained by owners Stan and Joanie Olson.
26759 N Avenue, Adel
(515) 993-4374
Hours: Friday 12-6 p.m.; Saturday 12-5 p.m.; Sunday 1-5 p.m.
Snus Hill Vineyard and Winery
The grapes grown at Snus Hill are truly the fruits of one family's labors. The winery thrives on the land first purchased in 1878 by the Swedish immigrant ancestors of the current owners, John and Diane Larson. What the Larsons first planted in 1999 has grown into a fully functional and flourishing vineyard. The vineyard's name pays tribute to their history, as snus is a type of old Swedish chewing tobacco, while some of their wines' names play around a feline theme, inspired by the family's Burmese cats—Whisker White or Cat Nip, anyone? Enjoy some High Trestle Taille or Ditchweed Red while relaxing in a rocking chair overlooking the countryside. Also mark your calendar to attend one of their live music events.
2183 320th Street, Madrid
(515) 795-3535
Hours: Wednesday to Sunday 10 a.m.-6 p.m.
Jasper Winery
Jasper Winery is perhaps one of the best-known wineries in the metro, thanks to its easy access from downtown Des Moines. In 2000, Jean and Paul Groben planted their first grape vines outside of Newton. Their passion project grew into a full-fledged vineyard that expanded to the larger Des Moines location in 2007. Mason Groben, Jasper's winemaker, upholds a philosophy of "interfering as little as possible in the winemaking process." Visit the tasting and barrel rooms and get a glimpse into the perfected production for yourself. You may want to plan your visit to coincide with their free summer concert series, which offers free live music every Thursday evening during the summer.
2400 George Flagg Parkway, Des Moines
(515) 282-9463
Hours: Monday to Saturday 10 a.m.-6 p.m.; Sunday 1 p.m.-5 p.m.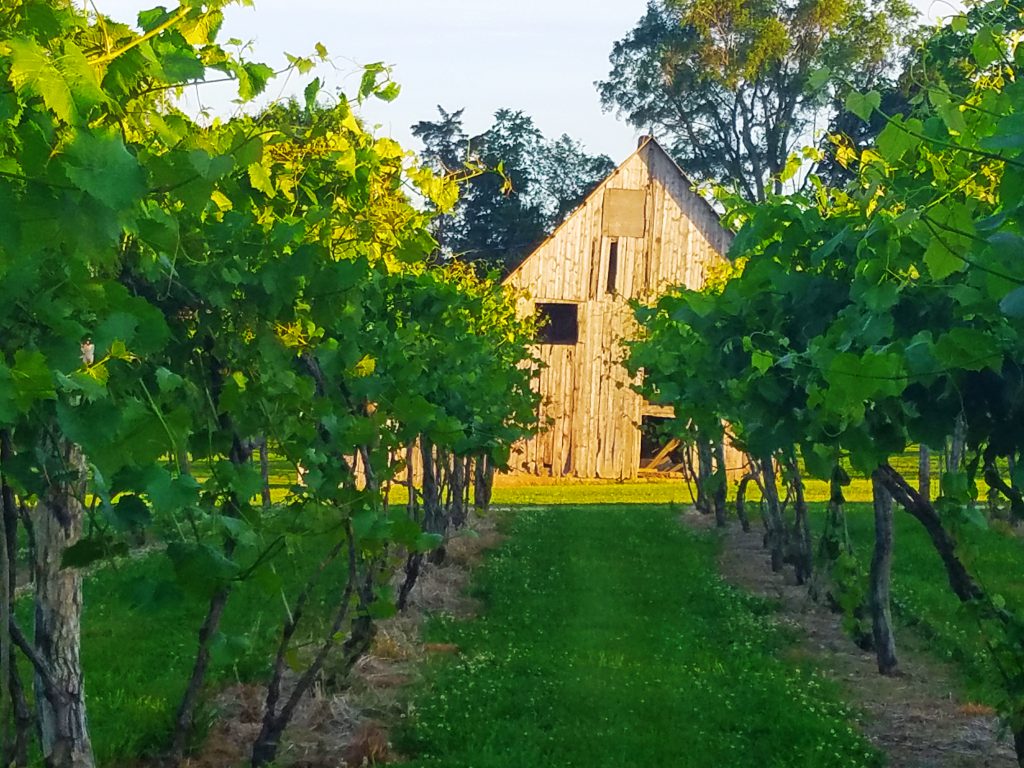 Covered Bridges Winery
From April to October, the Covered Bridges wine is poured plentifully and the joy is infectious when visiting the operation owned by longtime friends, Kevin and Jean Fifo and Kevin and Rose Boyle. The winery started out in the Fifos' basement, where Kevin first began experimenting with winemaking. As time went on, land was acquired and the first grapes were planted in 2004. The winery is now growing even more, with the construction of a production facility and an official tasting room set for completion this year, located north of Winterset on Highway 169 and 1170th Trail. Covered Bridges offers a wide variety of red, white and rose wines. The owners are happy to suggest pairings like the Holliwell Bridge white paired with chicken or the Rattlesnake Red (winner of the best red wine award at the All Iowa Wine Festival in 2013) paired with chili or chops.
Refer to the winery's website for directions—Don't use GPS to find the location.
(515) 729-9463
Hours: April to October, Saturday and Sunday 11 a.m.-5 p.m.
Madison County Winery
Make Madison County Winery the main event of your next day trip to the famous covered bridges. Their patio, complete with a fire pit, is the perfect locale for sweet summery sips like Summer Blonde, Lollipop, and Strawberry Blonde. Or perhaps rent out the wooden pergola to enjoy an evening of live music with your friends while sipping a dry white, like Vignoles or the fortified red blend, Phat Man. Even when it comes to small bites, Madison County Winery keeps it in the Iowan family. Choose from milk or dark chocolate from Pella's VanVeen Chocolate or a cheese plate made from Maytag Farms, Frisian Farms or Milton Creamery.
3021 St. Charles Road, St. Charles
(641) 396-2220
Hours: Tasting room and summer hours: Monday to Friday 11 a.m.-5 p.m.; Saturday 11a.m.-6 p.m.; Sunday 12 p.m.-5 p.m. You can also schedule a group wine tasting.
Two Saints Winery
Sunday afternoons never sounded so sweet: Live music from 2-5 p.m. through the end of September, complete with a bottle made from the 10 acres of grapes at Two Saints Winery. Relish the Iowa-grown grapes made into wines like the semi-dry The Greatful Red and the sweet white Deux Caniches Blancs in the inviting, geothermal heated/cooled tasting room or on the summer-friendly wraparound porch. Located in Warren County, the family-owned Two Saints Winery has thrived since the planting of vines in 2006. The rows of varietals provide picturesque acres to walk about before settling in for a five-wine flight.  
15010 20th Avenue, St. Charles
(641) 396-2102
Hours: Tuesday to Friday 11 a.m.-6 p.m.; Saturday 10 a.m.-5 p.m.; Sunday 12 p.m.-5 p.m.
Summerset Winery
Summerset has won a number of awards and holds the title of being one of the first estate wineries in Iowa. But one of its biggest selling points is the staff that break down potentially complicated wine terminology and help you pick a pour from their 23 different wines (like the popular Caba Moch and Harvest White) without an ounce of arrogance. The smiling golden sun on the label of each well-crafted wine from this Indianola winery is a metaphor. Joyful, sunny and carefree…that's how it feels to drink a glass on the lawn while the Sunday Tunes music fills the evenings through October. Be sure to make a (required) reservation for the formal tasting and cellar tour; the ticket price of $20 gets you a sampling of six sensational wines, a cheese plate and a branded wine glass. You can also book a night or weekend at The Inn—a luxurious home for rent that sleeps up to 18 people.
15101 Fairfax Street, Indianola
(515) 961-3545
Hours: Monday by appointment only; Tuesday through Sunday 10 a.m.-5 p.m.; Formal tour/tastings Tuesday through Friday 1 p.m. & 4 p.m.; Saturday and Sunday 12 p.m.
Annelise Winery
A visit to Annelise Winery's tasting room is a beautiful culmination of the labor and love that goes into crafting wines, like the sweet white Masquerade and the robust red Iowa St. Croix. There are 15 acres of vines, supporting 17 different types of grapes between two growing locations. The family-owned vineyard grew out of the first grapes planted in 1997, and the winery is conveniently located across from the Indianola balloon field. Plus, the recently remodeled barn on the property can host up to 120 people for weddings, parties and private events.
15110 Highway 92, Indianola
(515) 229-1299
Hours: April 1 to January 3, Wednesday through Sunday 11 a.m.-6 p.m.; Monday and Tuesday by appointment; January 4 to March 31, Thursday through Sunday 11 a.m.-5 p.m.
Dale Valley Vineyard & Winery
Drinking unique wines—like the rhubarb Recess or the smooth, citrusy White Gold—at Dale Valley also offers the opportunity to experience a piece of interesting Iowan history. A great, great, great, great grandfather of owner Tracy Mahlstadt was a key commerce creator in the area through the construction of a mill and goods store. He also made the operation of a one-room schoolhouse possible for the small town back in the 1800s. That same schoolhouse is now home to the intimate, friendly tasting room and gift shop. Yes, this is your chance to drink at school! Be sure to visit and share a bottle on the deck before October 1, which will mark the last day (ever) for the winery, which opened in 2007.
3097 285th Street, Stuart
(515) 523-2199
Hours: Wednesday through Saturday 10 a.m.-6 p.m.; Sunday 12 a.m.-6 p.m.