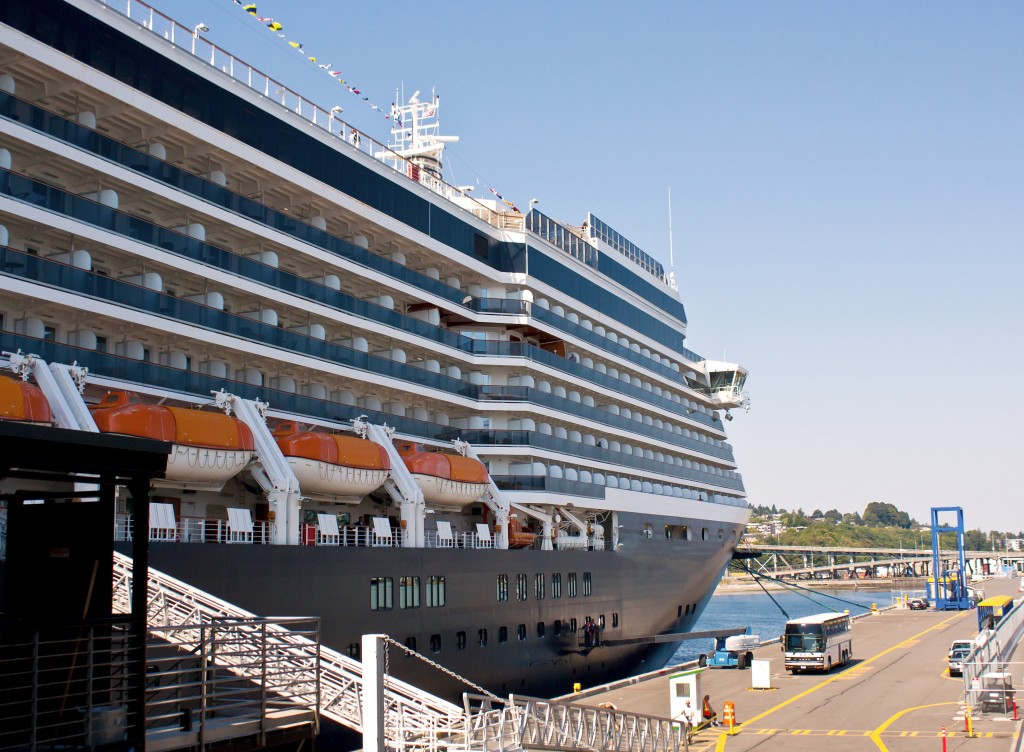 Carry off your own luggage and beat the crowd

We drove to our last cruise, so there was no transfer of luggage to the airport, and it made the entire disembarkation process very easy – and we were the first people off the boat, by 7:30am.

Bring lanyards for ship cards

For the past few cruises we've done, we've given everyone on the trip with us a lanyard to keep track of their ship card, each with a different color. Our oldest child got blue, the next green, and so on. The ship card is used to not only get into your stateroom, but it's used for various purchases on the ship, including any drink packages you may have pre-purchased.

Magnetic hooks and over the door shoe organizer for extra storage

You'll want quick access to things like sunglasses, phones, sunscreen, cameras and things of that sort and a vinyl shoe organizer you can hang on the door is a great way to keep everything you need visible, rather than tossing things in drawers and hoping you remember where you put that later. Also, the walls in each stateroom are magnetic, so consider bringing a few magnetic hooks to hang frequently-used items on.

Eat breakfast in formal dining room

The buffet is always a quick and easy way to grab a bite before you start your day, but be sure to take advantage of the formal dining room for breakfast, as well. There are usually a few unique menu items that you can't get at the buffet, and you can get in and out about as quickly, without having to wait in lines.

Anytime dining (especially if traveling with kids)

Most cruises offer a couple of "traditional" dining times, where you'll select from an early time around 5:30pm and a later set time around 7:00pm. You pick a time when you book your cruise and sit at the same table with the same people and same wait staff every evening. This can be nice, for some people, but we've found that sometimes you may want to get the kids out of the pool early to eat, so you can go to a comedy act or show later in the evening, or maybe there are other times when you just ate at an afternoon dessert buffet and want to "dine" later that particular day. Solution: anytime, or "flex" dining. It's just like eating at a restaurant. You show up when you want, you may have a 10 minute wait on the first night, but stick with it and you'll probably find that it's a nice alternative to scheduled dining.

Swim in the pool by the hot tub's so kids can warm up if the water's cool

On our most recent cruise, the first couple days at sea were breezy and the only people crazy enough to put a toe in the water were the kids. The main pool was empty, but the pool in the back of the boat gave the kids a chance to swim and then warm up in one of the poolside hot tubs.

Do waterslides and rope courses while at port because they are often closed at sea due to high winds

Just because a ship has a rope course, rock wall, or fancy water slide, doesn't mean they'll always be in service, especially out at sea where winds can become a problem.

Do room service breakfast if you have an early excursion

Room service sounds like something that may come with an extra fee – on most cruises there are no fees, as long as you're ordering before midnight, or after 5am. Take advantage of this for a late night snack with the kids or to get a no-hassle breakfast in before early morning excursions.

Use Internet resources to research private excursions

Sites like TripAdvisor are great for researching reputable alternatives to the cruise lines often more-pricey shore excursions. Whatever you do, just make sure you're back on the boat before departure.

Bring plenty of cash on excursions as credit card services can be down

When shopping or spending on excursions or at restaurants in remote locations, there's no guarantee that credit card machines are going to cooperate. We were recently in Cozumel, Mexico and then entire credit card processing network went down, forcing all merchants to go "cash only".

Make sure to negotiate taxi fare before getting in the cab

Get a price before you take a ride, to avoid any surprises. Most drivers will have a "fixed rate" to get you from the port to say…the beach, for example. $20 should get a family of 4-5 a 10-minute ride somewhere.

Tip extra at taxi drop off and gets taxi cab driver to come back for you at certain prearranged time

A little extra tip doesn't hurt to gain allegiance with a taxi driver who you want to come back to pick you up before the end of the day. Also, don't schedule pickup an hour before the boat leaves, as everyone will be hustling to get back at this time and you don't want to miss it.

Schedule early check in for Cruise arrival

Some cruise lines have started blocking out windows of time for checking in and boarding the boat, upon arrival. If you have a 1:30pm check in, and you get to the port before noon, you're stuck waiting a couple of hours.

Order multiple appetizers and entrées at formal dining

At formal dining, if 2 menu items look good, go ahead and order them both – they will be more than happy to get it for you.

Take time to organize room on first day

This just helps to get things in order, so you're not digging through suitcases looking for a pair of shoes or trying to find your belt for formal night at the last minute.
Experienced travelers out there, I'd love to hear any tips you may have! Please leave a comment, below.