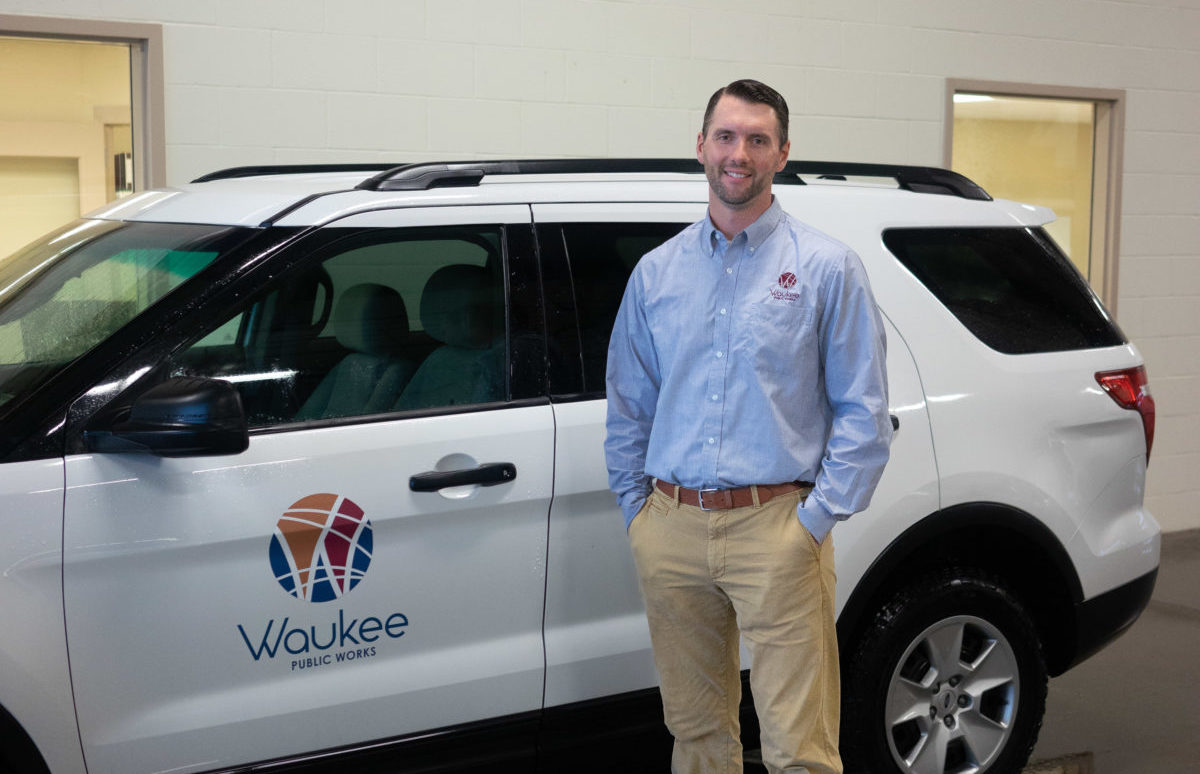 Tell us a little about your family.
I'm from Northeast Iowa, where my immediate and extended family resides. My parents are blue-collar workers; my father works as an equipment operator/truck driver for a heavy highway contractor, and my mother works for an egg processing plant as a line worker. In addition, they (along with my father's siblings) help my grandfather with the operation of the family cattle and crop farm.
I met my wife Erin about three and a half years ago, and we got married in September of 2017.  We enjoy hiking, traveling, exercising, visiting the many mom-and pop-restaurants Iowa's small towns have to offer on our Harley and cheering for the Cyclones! We have a five-year-old American Brittany named Chief with whom I enjoy pheasant hunting in the fall and winter months.
You're an Iowa State grad with a degree in Civil Engineering. How did you land in this field of study?
I grew up helping my dad and grandfather on the farm. From a young age, I always enjoyed building and fixing things with my hands. On the farm, it seemed we were always fixing or building things and my dad was always good at showing me how to do things that fascinated me. Growing up, I knew I wanted to build things, but I wasn't sure what. My first summer job after high school graduation was with the Fayette County Engineer's Office. The county engineer at the time took me under his wing and introduced me to the civil engineering world. It was his mentoring that really sparked my interest in highway construction. I knew from this experience wanted to build roads and bridges. The next decision—whereto go to college—was easy. I had an uncle who studied industrial engineering at Iowa State University, and he always talked up their engineering program, so I figured ISU had to have a good civil engineering program, too!
By the time this issue reaches Waukee readers, you'll have stepped into the role of Waukee's Public Works Director and City Engineer. For those who don't know, can you tell us what all this position entails for you?
Serving as the Public Works Director/City Engineer is a great honor and I'm humbled to serve the citizens of Waukee. The essential functions of my position are leading and directing the Public Works Department staff through policies, procedures, regulations, programs, systems, operations, goals and objectives of the organization. I'm serving as a liaison between the City and various regional, state and federal agencies, establishing public works and capital improvement projects and their respective project budgets. In addition, I'm the chief spokesperson for the Public Works Department and ensure a high level of service to our customers
You'll certainly have your hands full. Is there anything you're particularly excited for as you take on your new responsibilities going into 2019 and beyond?
Waukee is growing quickly and it's exciting to be a part of this growth. When I think back to when I first started with the city last year As I drive by all of the businesses and residential developments that have been built over this short period since I began working in this position, I get excited! I try to envision how Waukee will look in
10, 20 and 40 years. It's exciting to be involved in building and shaping its future. Specifically for 2019, I'm looking forward to completing the Alice's Road improvements, the beginning the Apple development and the unknown projects yet to come!
Last question. In this issue, we take a sneak peek at the new state-of-the-art Fridley Palms theatre set to open in Waukee very soon. Is there any movie you're looking forward to this holiday season?
I'm a big Clint Eastwood fan! I'm looking forward to The Mule coming out in December.