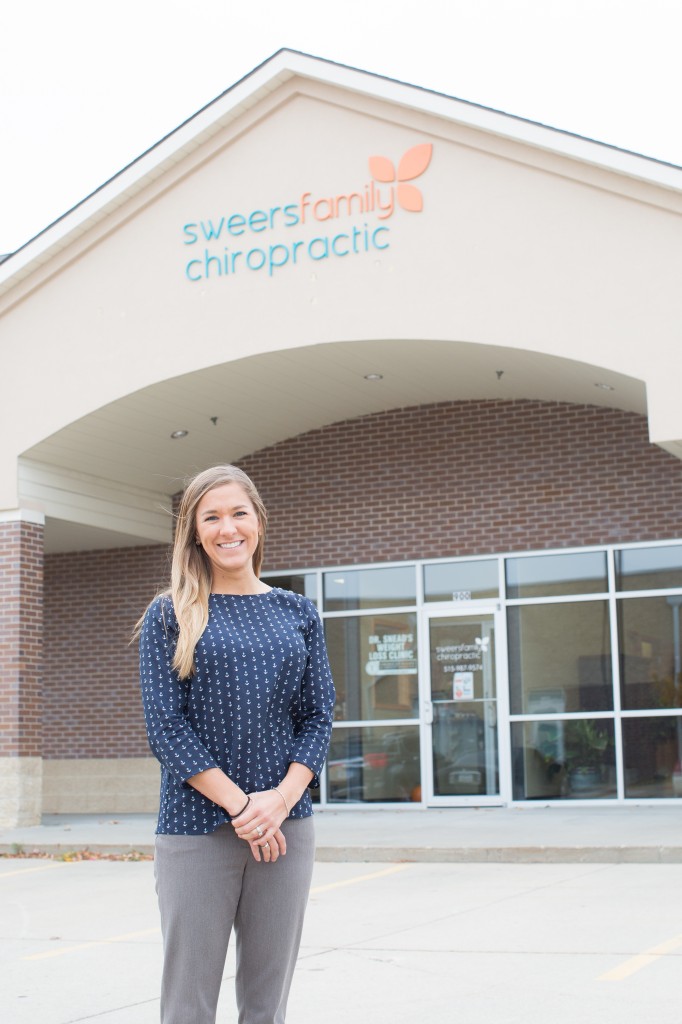 Where are you from originally?
I grew up in a small town in northwest Iowa called Odebolt. It has a population of 1,000 on a holiday weekend when everyone is home to visit, but I absolutely loved growing up there. I have lived in the Des Moines area for just over a year now, and I'm very excited to call it my new home.
Tell us a little about your career.
I attended school at Odebolt Arthur High School before heading to the University of Iowa, where I majored in Integrative Physiology and minored in Psychology. After a tough decision between Palmer College of Chiropractic in Florida and Logan College of Chiropractic in St. Louis, I decided to stay in the Midwest and move to St. Louis to attend chiropractic school at (what is now) Logan University.
What do you do with your free time?
I spend the majority of my free time with my husband, Aaron. We both enjoy staying active with sports or any outdoor activity. We play on a few different softball, kickball, and volleyball leagues, which usually keeps us entertained and busy. We also like to play with the Aerobie and go hiking when we can. When we're not being active somewhere, you can usually find us with our families. We both have several siblings—I have six, and he has eight! We are truly blessed!
What are some of the things you like most about living and working on the west side of the metro?
One thing I like is the camaraderie. Everyone is very proud of being from the west side, and they absolutely should be. Although I am not native, I know how much things have changed in the last few years. It's amazing how much everyone has embraced the change. The possibilities in this area are endless! Another thing I enjoy is the young families. This is truly a great place to raise a family of our own someday, and also to be a pediatric and family chiropractor that can help these families grow in health.
What should a person new to chiropractic care know before coming into your office?
The most common fear of new patients is whether their adjustment will hurt. Adjustments are not typically painful. More commonly, there is an almost immediate sense of relief. Your chiropractor will talk you through your first adjustment and make you feel comfortable. Another important thing to know is that it's never too early or too late to start chiropractic care. So many people are surprised when I tell them I treat several kids! They are even more surprised when I tell them I have adjusted babies that were only a couple days old.
In this issue, we talk about making smart choices when going out to eat. What are some of your go-to restaurants when your family doesn't eat at home?
Going out to eat truly is about making smart choices. I find that you can go almost anywhere and still choose to eat smart. You can always replace fries with veggies; get grilled instead of fried; skip the bread; skip the fancy drinks; skip dessert; box half of your meal before you even start; and drink lots of water before, during and after! But if I must say, one of my favorites lately is Fresh Mediterranean Express. It's so delicious and pretty healthy! I also like places where I can make it myself, like Qdoba, Chipotle, and Pita Pit. Tripling the veggies always makes me feel better about going out to eat.
Care to share any of your 2016 New Year's resolutions?
Some things my husband and I are working on for next year are spending more time in the gym and decreasing our stress levels.