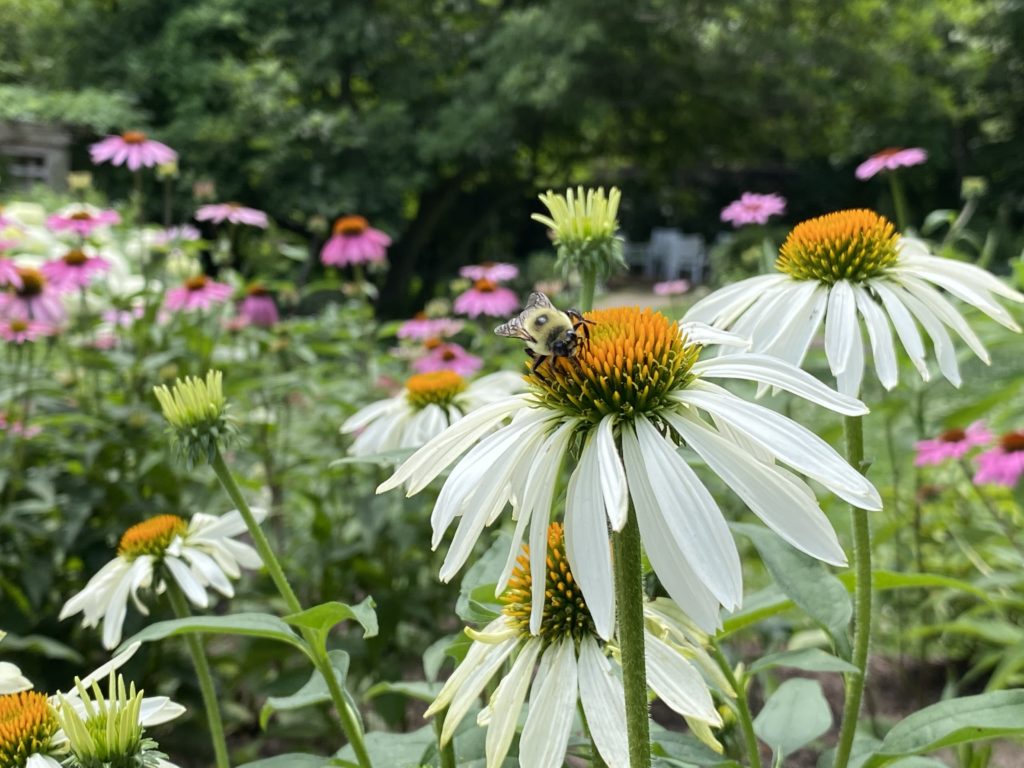 This winter has been brutal. At the time of writing, the temperature was below zero, with no immediate relief in sight. But spring will be here soon, believe it or not, and with it will come warmer temps, sunnier days and the chance to be outside once again. Whether you're looking to spruce up your outdoor space or in the market for outdoor recreation, there's plenty to look forward to this spring!
Home Improvement
Spring cleaning isn't just for your house—it should extend to your landscaping, as well. If fall and winter were challenging for your lawn, it might be time to think about installing sod. Spring is the busiest season for sod installation, says Abby Stensland of Stensland Sod in Granger. "It's a great time to lay sod, since the temperatures aren't that hot and there's more rain, which means less watering for the homeowner or builder," she explained.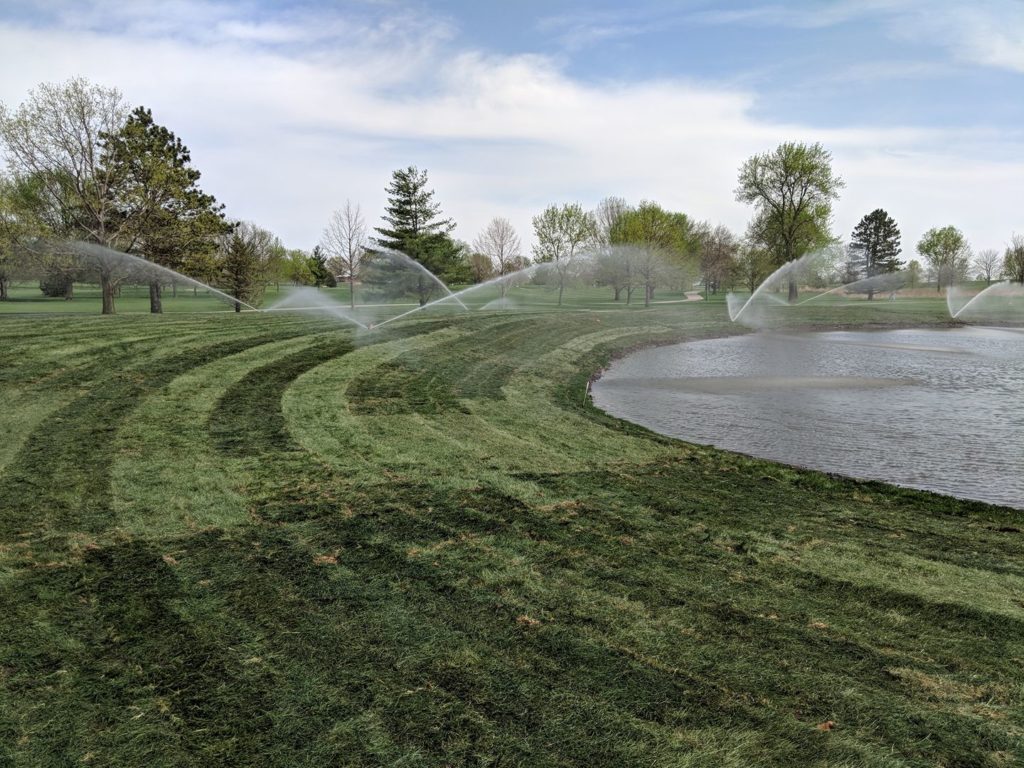 Sod is often installed for new construction, but it can also be a great option for established lawns that are in need of a little TLC. Stensland says some homeowners have particular trouble spots in their yards that can benefit from being replaced, such as areas damaged by pets or snow plows. You can even replace your entire lawn if needed. "We've torn out yards that have been killed for various reasons and replaced them completely," said Stensland.
Another way to jazz up your outdoor space is to plant a garden, and you'd be in good company if you did. Tara Dudley, owner of Plant Life Designs in Van Meter, says 2020 brought a big increase in the number of first-time gardeners. "We discovered this past year gave people more time to explore the beauty and benefits of gardening," said Dudley. "The pandemic seemed to push our clients to move forward with projects they had been thinking about in the past and had always wanted to do."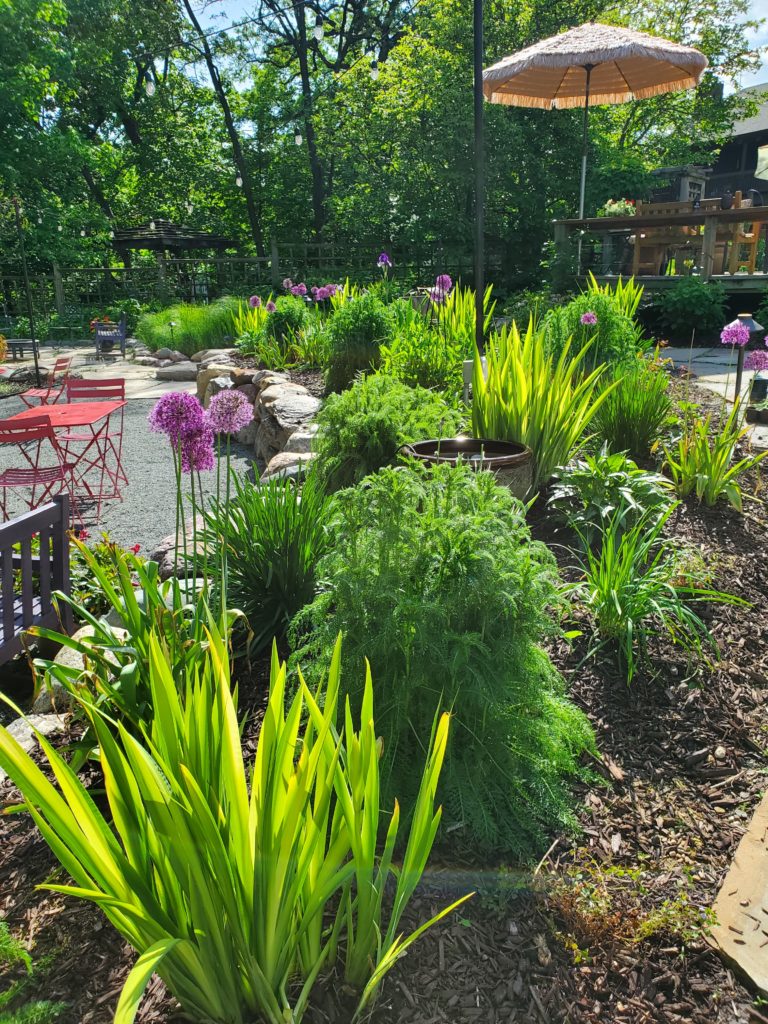 Looking to make some basic updates to your outdoor space? Dudley recommends starting with a deep-clean of any existing flower beds and some rejuvenation pruning of woodier shrubs if necessary. (This involves cutting back the shrub by two-thirds). Once you've cleaned up your beds, adding in plant material, such as groundcovers, grasses or perennials, will help with weed suppression and provide color. "We also recommend expanding your bedlines to create some depth and to accentuate your house a bit more," said Dudley. "This usually just requires a bit of sweat equity!"
Container gardens can also be a great way to add color to patio spaces and garden beds, says Dudley. "A fresh coat of mulch can also do wonders in the spring when you've cleaned everything up," she added. Plus, a little planning can set you up for even greater success next spring. "Planting bulbs in the fall can ensure early spring color," explained Dudley.
Recreation
Once you've put in the work on your lawn and garden, it's time to unwind, and one way to do that is on your bike! If you dusted off your old Schwinn last summer, you're not alone, says Dave Hammer, manager at Kyle's Bikes in Waukee.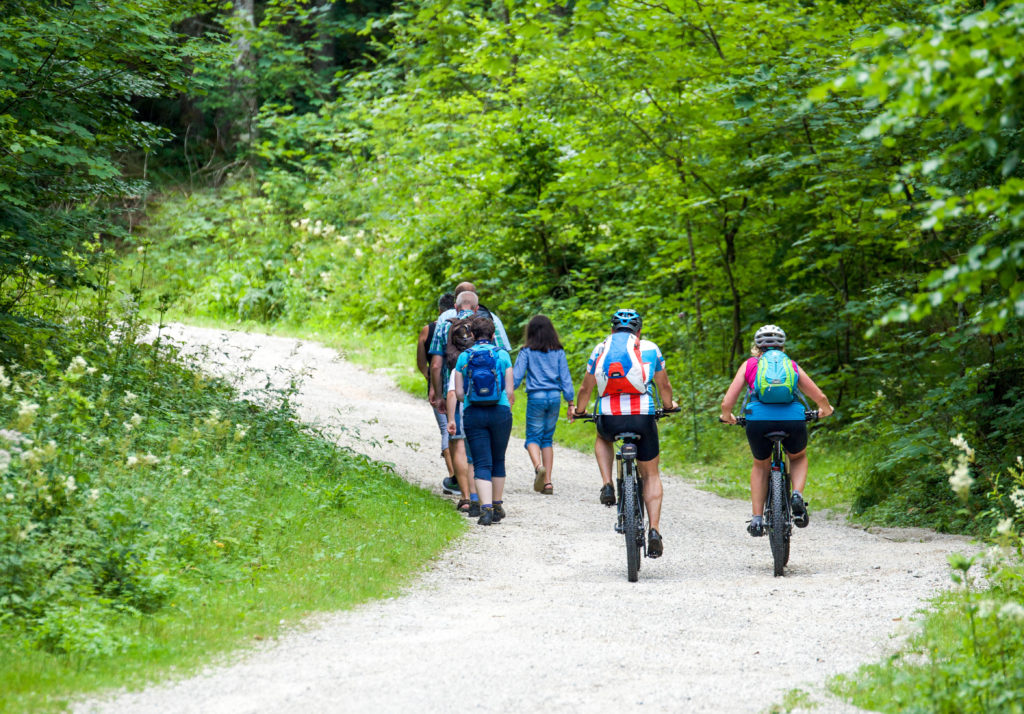 "We're seeing our first bike boom of this century," said Hammer. The store had its best spring on record in 2020. However, since most bicycles, parts and accessories are produced in Asian countries, the industry as a whole has faced shortages for months, which continues to affect inventory. Hammer cautions that the bike industry is looking at an 18-month recovery period before there will be normalcy in terms of production and availability.
If you're thinking about doing some biking, you'll need more than just your bike, of course. "We ask every customer that purchases a bike from us to have a quality bike helmet, and that it not be any older than five years old," said Hammer. Other things to consider purchasing, according to Hammer, are a water bottle and cage—essential during Iowa's hot, humid summers—and a repair kit. If you'll be doing any night riding, you'll want to think about lights for your bike, too. New riders should also consider bike-specific clothing. "A padded cycling short will increase your joy of biking immensely," advised Hammer. He also recommends cycling-specific shoes for better performance.
A professional bike fitting ensures the rider's optimum comfort and alignment in three touchpoints: the seat, the feet and the hands. Hammer even recommends a fitting for purely recreational riders. "We're using physiology to fit people to their bikes, and sizing principles and fitting principles to make sure they're comfortable on the bike," he explained.
Once you're comfortable on your bike, says Hammer, the world is yours to explore! "Cycling is one of the top three exercises that anybody can do at any age," he explained. Biking is a great way to increase your heart health and conditioning, even for people with limited mobility. Above all, "there's a sense of freedom a bike gives you that nothing else will. You cover so much more ground and see so much more scenery than you can walking or running," said Hammer. "It makes you feel like a kid again!"
Whether you're on your bike or on foot, Waukee's community parks provide a great place to get some fresh air. This spring, residents will be able to take advantage of two additional parks: Alice Nizzi Park, located on Dellwood Drive, and Glynn Village Park and the Glynn Village Trail Amenity in the Glynn Village neighborhood. Starting this spring, both parks will be open for use, according to Matt Jermier, Waukee Parks & Recreation Director. "People are excited about it, especially after this winter," he explained. "Two new parks will be a great thing for our community."
This year will include the construction of Triumph Park, which will be located north of Hickman Road and east of North 10th Street. Scheduled to open in June of 2022, the 66-acre park will feature a sports complex with numerous fields and practice areas, as well as a 15,000-square-foot, EPIC Inclusive Playground, according to the Parks & Rec website. Triumph Park "will serve the community's needs, most importantly," says Jermier, "but it will also serve as a regional destination."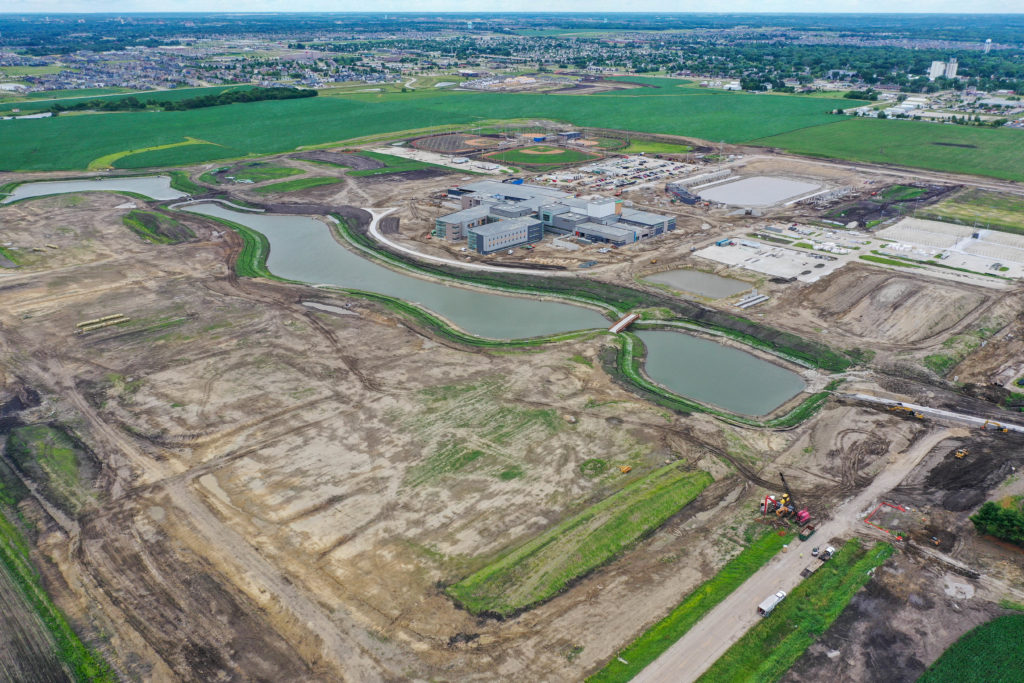 Jermier also commented that the department's numbers on its trails and the use of its parks indicate that both are being used safely by residents even more than in the past. "We know how important those [the parks and trails] are, not only to physical health but to mental health," said Jermier. "We'll have the parks and trails ready."
Waukee Parks & Rec is currently finalizing its programming for spring/summer 2021. Registration for the majority of summer camps opens March 1, and online registration is available at waukee.org/registration. Check out some of the offerings below!
Mini Sluggers T-Ball
Mini Sluggers T-ball, sponsored by Farmers State Bank, will run for five weeks with separate leagues on Tuesday and Thursday evenings. Mini Sluggers gives kids the opportunity to participate in a summer T-ball league while teaching them basic fundamentals through practice and games. Foam bats and balls must be used in this league and will be provided for each team. Teams will be formed at random. Children must be 4 years old by July 1, 2021. Volunteer coaches are needed!
Dates: June 1-29 & June 3-July 1
Times 5:45 p.m. & 6:30 p.m.
Fee $42 (includes a t-shirt)
Ages 4-5 years old
Pickleball League
Pickleball is played on Monday evenings at the Fox Creek Park Pickleball Courts. The league has space for 16, two-person teams. Registrants must sign up as a team; individuals will not be taken. Teams may be split into competitive and recreational divisions depending on numbers.
Dates: May 3–June 14: $48.15
Introduction to Soccer
Introduction to Soccer is designed to teach kids the basics of soccer while having fun. Game play will be 4 vs. 4 with four quarters of eight minutes continuous clock with no goalie. Teams will consist of seven or eight players with plenty of playing time for each player. Children must be 4 years old by Oct. 1, 2021. Registration is open June 1-Aug. 1.
Dates: Aug. 24-Sept. 21
Time 5:45 p.m.
Fee $42 (includes a t-shirt)
Ages 4-5 years old
Home Alone Awareness
Thinking of leaving your child at home alone this summer? Make sure they are safe! This class is taught by members of the Waukee Police and Fire Departments. They will provide educational tools and safety tips to help keep your child safe and aware of dangers in and around your house. Drinks and snacks will be provided.
Date: Saturday, April 24
Time: 8:30-11 a.m.
Fee $10
Grades K-5th
Kids Yoga
Move! Breathe! Stretch! Grow! Students will practice breathing, stretching and moving their bodies in mindful and playful ways as they learn basic yoga poses from a certified kids' yoga instructor and former elementary school teacher. This class is fun for students who are new to yoga and those with experience. Students should bring a yoga mat or beach towel and a water bottle. Parents/guardians are encouraged to accompany kids ages 3-5.
Dates: Tuesdays, March 2-30; Wednesdays, March 3-31; Tuesdays, May 4-25; Wednesdays, May 5-26
Times: 10-10:45 a.m. & 4:15-5 p.m.
Fee $40
Ages: 3-10 years old
Kiddy Keys
Enroll in this virtual, four-week class to play, sing and learn! Kiddy Keys is a modern and engaging approach to teaching piano skills and music concepts. Registered participants will receive an email each week with a private, 30-minute virtual class, allowing families to participate according to their own schedules. Each class will consist of music and movement, piano play and improvisation, music theory, keyboard geography and exploration, composition and music history, color and shape recognition, life skills and character development. A keyboard/piano is not required in the program.
Dates: March 1-22, April 5-26, May 3-24
Fee $44
Ages 3-5 years old
Easter Coloring Contest
Help spread some Easter cheer to Waukee Downtown Businesses! To participate in the Easter Coloring Contest, please print a coloring sheet and entry form from Waukee.org/eastercoloringcontest or pick them up at the Parks & Recreation office. The contest will start March 1, and the last day to submit finished entries is March 26. Winners will receive an egg'cellent Easter basket filled with goodies, including a sweet treat from Nothing Bundt Cakes! Coloring pages will be displayed in Downtown Triangle Businesses.
National Kids to Parks Day
National Kids to Parks Day is Saturday, May 15! Join Waukee Parks & Rec and Waukee APEX associates on a community-wide scavenger hunt. Look for clues, and then hunt your way through Waukee. Email dedwards@Waukee.org prior to May 10 for more information.
Mixed Couples Events
Spend Friday night at Sugar Creek Municipal Golf Course. This nine-hole, two-person scramble event includes greens fees, cart, range balls, appetizers, dinner and prizes.
Dates: May 21, June 18, July 16, Aug. 20
Tee-off Time: 5:30 p.m.
Fee $70 per couple