Waukee Fire Department's Staffing Increase Ignites New In-House Fire Academy
The City of Waukee saw a record number of fire calls in 2015. The Waukee Fire Department responded to 1,365 total calls last year, up nearly 22 percent from 1,121 in 2014. In fact, annual calls have increased by 110 percent over the last decade: the department responded to 650 calls in 2005.
"With the population boom we've seen in Waukee, the demands and expectations of the fire department have really increased," said Fire Chief Clint Robinson. "We haven't hired part-time staff in years. But we recognized the need and went through the hiring process at the end of 2015."
Waukee runs as a "combination department," staffed by a mixture of full- and part-time employees. There are five or six employees staffed during the day and four at night. The FD has seven full-time employees. Three work 24 hours on and 48 hours off, and the remainder work staggered eight-hour days. There are 28 part-timers who work 12-hour shifts one to three times per week.
"We've added seven new part-timers to help alleviate staff burn-out and, of course, to better serve the community," said Robinson. "This will especially help fill our weekend shifts, which can be challenging, as so many of us are busy with family activities."
Two of the new part-time hires—Brian Davis and Cody Nicely-Green—are state-certified firefighters and are actually employed full-time at other metro departments. Davis (Des Moines FD) and Nicely-Green (Urbandale FD) are seasoned, but are now learning things specific to Waukee. They're wrapping up field training and will be fully deployable any day now.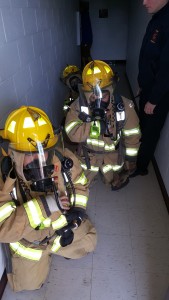 "I've been in the fire service for about eight or nine years now," said Nicely-Green. "My father's a firefighter. I grew up in a firefighter family. It's just kind of second nature."
"Waukee has a great reputation for treating their part-timers with respect and integrity, and really making them feel appreciated," Nicely-Green added. "I just finished up my paramedic certification, so this is great timing."
The other five new part-timers are not certified yet. In mid-January, they entered the Waukee Fire Department's first ever in-house fire academy. Oscar R. Posadas, Cassie Yates, TJ Hardin, Jason Tuel and Luis Ohmstede will receive more than 140 hours of training before the 17-week program wraps up. There were several reasons the Waukee FD developed their own academy for these five recruits.
"We used to send new hires to West Metro Training Academy, but we're cognizant of their time commitment. Since these five all live in Waukee, this means less driving for them," Robinson said. "It also allows us to teach Waukee-specific material. And, we're not paying tuition to another department."
The new Waukee Fire Academy is taught by Waukee's own firefighters and by guest instructors from various agencies. The classes, held two nights a week and one Saturday a month, range from classroom discussions on fire service history, fire behavior and rescue tools, to more intense hands-on training such as ice rescues, vehicle extrications and live burns.
Full-time mental health professional Cassie Yates is one of the new hires enrolled in the academy. She said she's learning a lot in the classes and is enjoying the team atmosphere of the department. Yates is the only female member of the Waukee FD, but she says the academy promotes a level playing field.
"They treat me just like everybody else. They don't recognize the fact that I'm female or not, which is exactly what I wanted," Yates said. "I don't want to be treated any differently."
After the academy finishes up in May, the probationary firefighters will go to EMT school and engage in field training. Robinson expects they will be certified members of the Waukee FD by September. The department also plans to hire a new full-time certified firefighter this summer.