Science, technology, engineering and mathematics (also known as STEM) used to be the school subjects that made kids groan with dread. But for the Waukee Master Builders—a robotics team comprised of kids from the Waukee middle schools in grades 7 and 8—the team is a whole new way to explore STEM subjects and have fun doing it.
And the best part: they get to build robots, which is pretty cool, whether you're a kid or an adult.
The team is made up of seven kids: four boys and three girls. The Builders regularly compete in First Lego League challenges, where teammates practice teamwork and problem solving, research real-world problems and practice coming up with solutions and presenting them in front of an audience.
Sreehari Mogallapalli is the team's head coach. He works for John Deere as an IT Analyst and volunteers through John Deere's volunteer program, called Inspire.
"Inspire lets employees volunteer at different organizations and schools," said Mogallapalli. As head coach, he mentors the students and helps them understand the STEM subject areas and activities. What's more, if Mogallapalli spends more than 40 hours in a season (which is easily done given their level of activity), Deere will donate $1,000 to the school.
Mogallapalli has the privilege of teaching life skills and volunteerism at the same time. "I want to introduce them to challenges and how to use the technology in the industry to address them," he said.
Parent volunteers help the kids evaluate problems, identify challenges and ways of solving them, delegate and follow through. According to Tracy Scott, a parent volunteer, it's a partnership among the parents. Whoever is able to help, does so. "We're not there to give them ideas or tell them how to solve the problem. We're just there to facilitate the process," said Scott.
Despite the fact the team formed only three years ago, they've done very well in the competitions they've entered.  In fact, they won their first competition for the 2014/2015 season.  (Each season runs throughout the previous year and culminate in a competition in January of the following year).
"The teammates work together collaboratively to get their projects done," said Tricia Brock, the team's assistant coach. "Sreehari presents the kids with ideas, and they decide which problems to address and how to come up with solutions," she said.
Brock and Mogallapalli agree that teamwork is a major focus of the group. The kids understand one another's strengths and delegate tasks accordingly.
"Teamwork has taught us that no matter what, we can always solve our problems," said 12-year-old team member Owen Scott.
The Builders have advanced through regionals twice and have had the opportunity to compete in the state competition.  For the 2016/2017 season, they won "Best Innovative Project Solution" in January 2017 for an idea that would limit the amount of bird carnage produced by wind turbines (see inset for more information).
In 2015, they competed at regionals but did not make it out of the competition with a trophy. They did, however, leave the competition with an idea.  
The theme that year was "Trash Trek," and the teams were tasked with addressing problems in their community around trash, recycling and waste.  
As part of the challenge, the kids had to learn more about how the community handles trash and the common problems faced by the community when it comes to the way we handle waste and recycling.
They did their due diligence: they interviewed officials at two Des Moines-area waste handling facilities and one non-profit. The team members learned what happens to the trash in their community and common problems recycling facilities face when it comes to community education (e.g., people don't know what to recycle or how to recycle it). They also learned how one non-profit uses their website to educate Iowans about litter and the importance of recycling, and where they're falling short. A third organization showed them how industrial waste gets turned into products society uses on a daily basis, even when they're not aware of it. In other words, the Builders got a crash course in how the Des Moines area handles waste.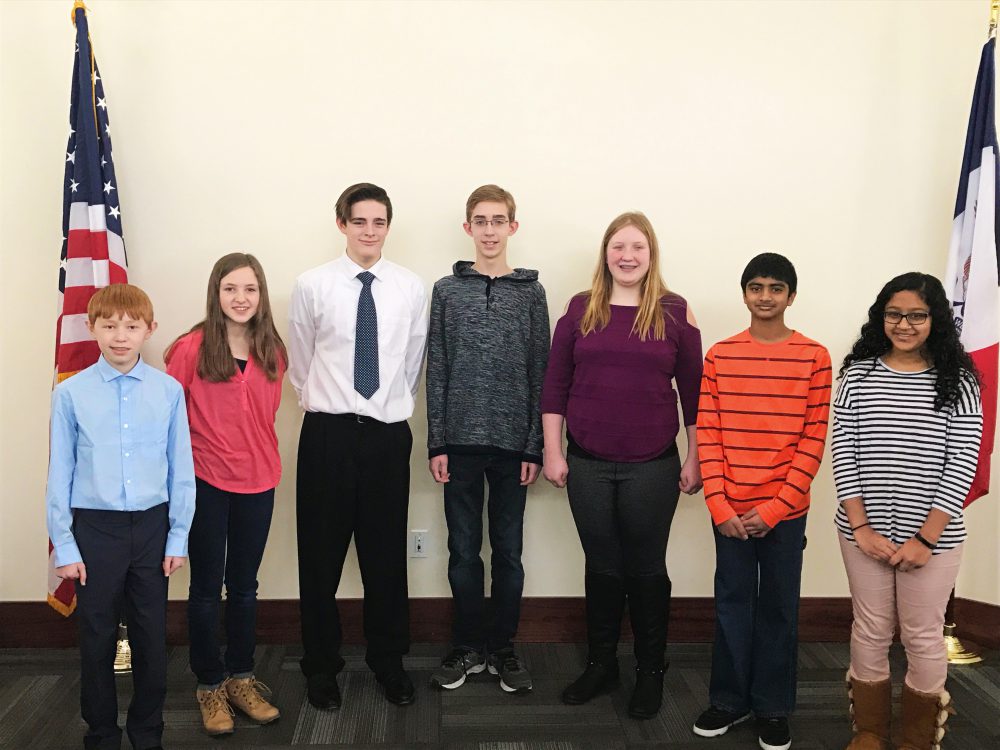 They then turned to 100 community members to gauge interest, getting their input on their issues and questions concerning trash removal and recycling.
And so, Trash Companion—a simple mobile app—was born. The team wants to change the way you deal with your garbage by creating an app that will simplify and streamline the process.
The Trash Companion app will let community members easily access pick-up dates, find out what to do with hazardous materials and learn about any fees that may be attached to disposing waste. It will also allow users to set reminders that alert them of their scheduled trash pickup, tell users how they can dispose of old electronics (no more wondering what to do with that old VCR) and allow users to schedule curbside and bulk pickup of items.  It will also provide a community calendar with dates for neighborhood-wide waste disposal events.
All three organizations contacted by the team were interested in the app and what they could do to facilitate more efficient recycling, waste disposal and trash removal. "They were all very supportive and wanted to see the app developed," says Mogallapalli.  The idea was also strongly supported by the community members who had provided their input.
The team had an idea, community buy-in and the support of the local businesses that deal with trash.  So now what did they need?  Programming help, and—most importantly—funding.
Enter the Verizon Innovative Learning App Challenge.  After realizing they didn't have the funds or the expertise to develop an app, they researched how they could get it built. "They saw the contest as a way to get their app implemented," said Scott. "They don't have the resources to get an app built.  It would take a lot of money to do that," she said.
They entered the competition in August and were chosen as the best middle school in the state—no small feat, since there were 1,800 applicants nationwide.  Each state has two categories: grades 6 through 8 and grades 9 through 12. The prize for winning best middle school in the state?  A Verizon Ellipsis 10 tablet for each team member and $5,000 for non-profit STEM use.
Now the team is competing against 93 other teams to win "Fan Favorite."  The team that gathers the most votes wins $15,000 and a mentorship with MIT experts to make their project happen.
The Builders found out they won on Jan. 9, right after regionals, and just as they were in the middle of preparing their electromagnetic fence project for the state competition.  It was high excitement, and the kids hustled to keep themselves in the running. They had less than one week to create and submit a 30-second video for the Fan Favorite competition.  "They were texting each other every day of the week to get their work done for both projects," said Brock.
The parent volunteers have watched their children flourish with the team.  "Being on the team has helped Owen reach beyond what he's learning in school," said his mom, Tracy Scott.  "More than likely, he's going to school for a STEM-based profession.  He's learning about coding and wants to learn more languages he doesn't yet understand."
Brock agrees. "My son Griffen loves the challenge.  He likes to think through the process, he enjoys presenting, he enjoys the programming.  He likes the whole thing," she said.  "He really enjoys building the robots and thinking through the problem."
The implementation of Trash Companion will benefit not only the Waukee community, but could have an impact within the greater Des Moines Metro area.
These kids are doing something we all wish happened more often in our schools: they're thinking about and tackling real-world problems. They're implementing real-world solutions. They're learning about the STEM sciences in the process. And they're researching and validating their products and ideas before they implement them—all very important (and entrepreneurial) activities that will serve them well down the road.