Contact-free curbside pickup is now available at the Waukee Public Library!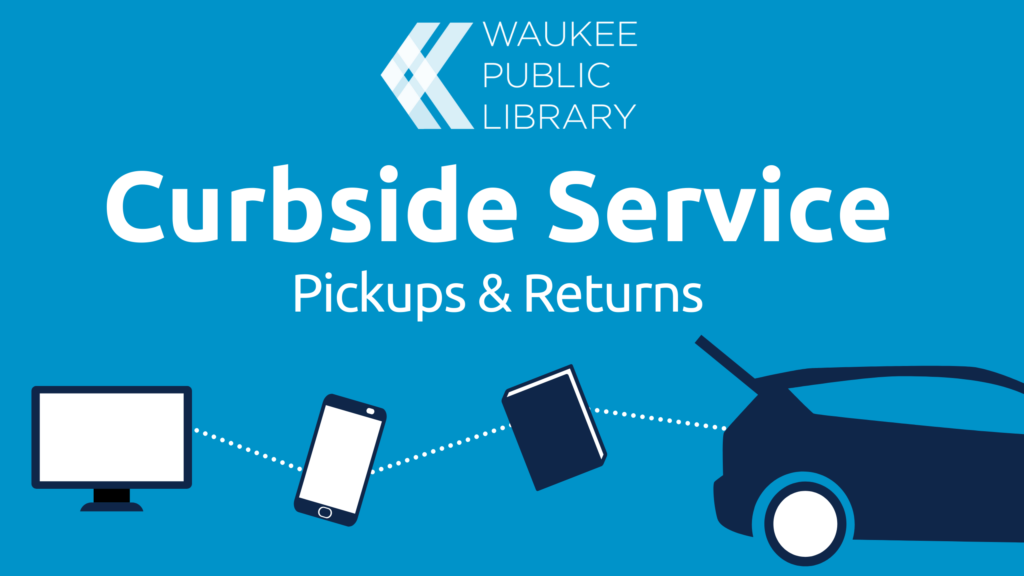 Library cardholders can now place holds on items using the online catalog on our website or by phone. Patrons will be notified to schedule a pickup time when their items are ready.
Curbside return of library materials is also available during our curbside hours. Patrons can return items to the bins on the labeled carts. If you are only returning items, please leave the parking spaces closest to the pickup location for people using curbside pick-up. Due to construction, the drive-up return will remain closed at this time. Returned items will be checked in after at least 72 hours of quarantine.
Curbside service is available Monday – Friday from 10 a.m. to 6 p.m. at the library's front entrance. This location could change due to weather or parking lot construction. Please follow the directional signs.
Place your holds now!
💻 waukeepubliclibrary.org
☎ 515-978-7944
Curbside FAQs
• Curbside pickup service is available for library materials including books, audiobooks, DVDs and magazines.
• The library is closed at this time and will remain closed to the public.
• No fines were charged during our closure.
• All library cards set to expire in 2020 have been renewed until July 1, 2021.
• All items checked out prior to our closing in March are due July 1. If you cannot return your items before then, please let us know and we can extend that date further.
Reopening
• The library has a multi-phase plan for reopening based on federal reopening guidelines. We will open as soon as it is safe to do so. We are closely monitoring the situation.
Getting a Library Card
• You can create a digital library card on our website.
• If you would like to be able to check out items, you will first need to create a digital library card. Once you do that, let us know and we can upgrade your digital card to a temporary card. The temporary card will allow you to continue to use digital resources as well as check out five items at a time. We will send your new library card number to you via email and mail.
Donations
• The library is not accepting book, DVD or magazine donations at this time.
• We are not accepting donations of craft supplies or envelopes at this time.
Parking Lot
• The library is currently undergoing a parking lot project that will double the number of parking spots. This project will last into the fall.
Interlibrary Loan
• At this time, we are unable to take any requests for interlibrary loans. We hope to resume this service in the near future.
• Any interlibrary loans that were checked out prior to our closing should be returned as soon as possible.
For more information on our new curbside services, please visit waukeepubliclibrary.org/curbside.