Now that the weather has taken a decidedly cold turn and the last glow of twilight fades only a little after five o'clock, it seems to be about the right time for some warm and inviting dinner fare. Beyond soups, stews, and fresh apple crisp, what else can bring comfort and sustenance in one fell swoop? Enter the surprisingly simple, wonderfully versatile béchamel sauce, sometimes referred to as simply 'white sauce.'
This sauce is commonly added to pastas and vegetable gratins and lends a creamy deliciousness to everything it touches. And yet, since it's made with 2% milk, it doesn't leave you feeling so full that you want to push your chair back from the table a few inches. Add some cheddar, and it becomes the perfect base for mac 'n cheese. Spread it between layers of lasagna or toss it with cooked vegetables. Or try a croque monsieur, which is essentially a hot ham and cheese sandwich that is covered in cheesy béchamel and broiled until golden brown on top. These are the kinds of warm, delicious dishes that welcome you inside from the frigid outdoors.
The sauce starts with a roux, which is not as intimidating as it sounds and basically involves melting a hunk of butter in a saucepan and then stirring in a bit of flour and cooking the mixture for a minute or two in order to get rid of the raw flour taste. Then, you slowly add milk to the roux while stirring the mixture constantly with a wooden spoon. The sauce will simmer for about 10-15 minutes, during which time you must stir frequently. Standing over a pan of hot milk and swirling it back and forth is an unexpectedly effective way to release some of the tension of a busy afternoon. Once the sauce has thickened to a consistency of your liking, you're done. It's as simple as that.
While your family and friends will be impressed by your knowledge of French cooking terms like béchamel and roux, you'll be happily pouring and mixing your way to one of the dozens of delicious applications of this humble sauce. And in making it, you'll be helping to create a warm haven from the cold, right there in your kitchen.
Basic Béchamel Sauce
Ingredients:
2 tbsp butter
3 tbsp all-purpose flour
3 cups 2% milk
2 teaspoons minced garlic
Salt and pepper to taste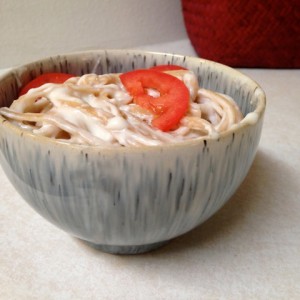 Melt the butter in a medium saucepan over medium-low heat. Stir in the flour and cook for a minute or two in order to get rid of the raw flour taste.
Slowly whisk in the milk in order to avoid creating lumps. Stir in the minced garlic.
Simmer for about 10-15 minutes, until sauce has reached your desired thickness. Season with salt and pepper.
When using this sauce as a base for cheesy dishes, add the cheese at toward the end of the sauce's simmering time. There's no need to measure an exact amount of cheese; you'll know how much to stir in based on how thick you want the sauce and how much of a presence you want the cheese to have in the dish.