When you find "the one," you just know. Sometimes this sort of love catches you off guard, and you find them in the least suspecting place. Sometimes you're ready and searching for the right match. Sure, they could be missing a leg, or maybe they don't have the prettiest coat on the block, but when you meet your perfect pet,
you just know
.
An avid dog lover and advocate, Amy Heinz just knew she had to help a poor dog she saw abandoned on the side of an I-80 on-ramp in De Soto. After almost two weeks of attempting to find and get near the dog that had multiple broken bones in its foot, Heinz was able to attract the dog to a trap provided and monitored by the Animal Rescue League of Iowa. She took the dog home and aptly named her Grace as she quickly joined Heinz's other four dogs as a furry member of the family.
This successful search and rescue mission inspired Heinz to help other pets survive, thrive and find loving homes.  In 2008, she launched AHeinz57 Pet Rescue & Transport in her garage and rescued and found homes for 100 pups during her first year of operation.  
A Rescue Worth Barking About
What started off as an initiative of passion inspired by Grace the dog evolved into something much bigger than Heinz expected. Now, the nonprofit is a committed community resource for saving homeless companion animals, assisting other shelters/rescues through rescue transports, offering in-home training to keep dogs in their current homes, and educating the public on the issues of pet overpopulation, responsible pet ownership and puppy mills.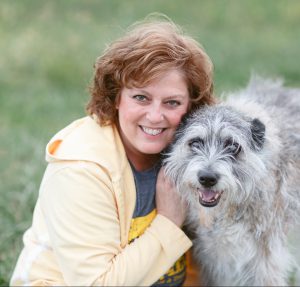 The "rescue transport" element differentiates AHeinz57 from traditional animal shelters and no-kill rescues. Volunteers for the organization transport dogs that are set to be put down in traditional shelter environments and take them to no-kill rescues across the Midwest, as well as Canada. The facility serves as an overnight "pit stop" for the pups, and also as a haven for dogs waiting for an open foster spot. Senior dogs and other pups that cannot find foster families also find a home at cage-free AHeinz57.
When homeless or other dogs are brought through AHeinz57, they receive a check-up and are treated to the veterinary works, including vaccines, heartworm prevention, spay/neuter procedures, and a microchip.
Since its founding, AHeinz57 has helped over 5,000 dogs find their "happy tail" (as the organization likes to call an adoption), in addition to transporting even more animals out of danger of death to a hospitable rescue facility. Yet, there will always be animals in need, so there's a need for AHeinz57 to have additional space to shelter dogs on their journeys to forever homes.
AHeinz57 is currently located in an old vet clinic and has space for about 12 dogs. But, between the dogs' living area, laundry and medical rooms, and adoption space, it's difficult to manage noise, ventilation and disease control. Its energy efficiency is also less than ideal, and there's a need for more space for operations.
That's why AHeinz57 drew up the blueprints for a new and improved facility.  The new place will offer a more comfortable space for the dogs, as well as for those who come in for adoption processes, education and training.
But, such an expansion is an expensive one that requires a capital campaign to help fund the dream. Heinz and a coalition of volunteers are on a quest to raise $1,250,000 for two buildings that will better serve the needs of dogs and other animals in need of homes.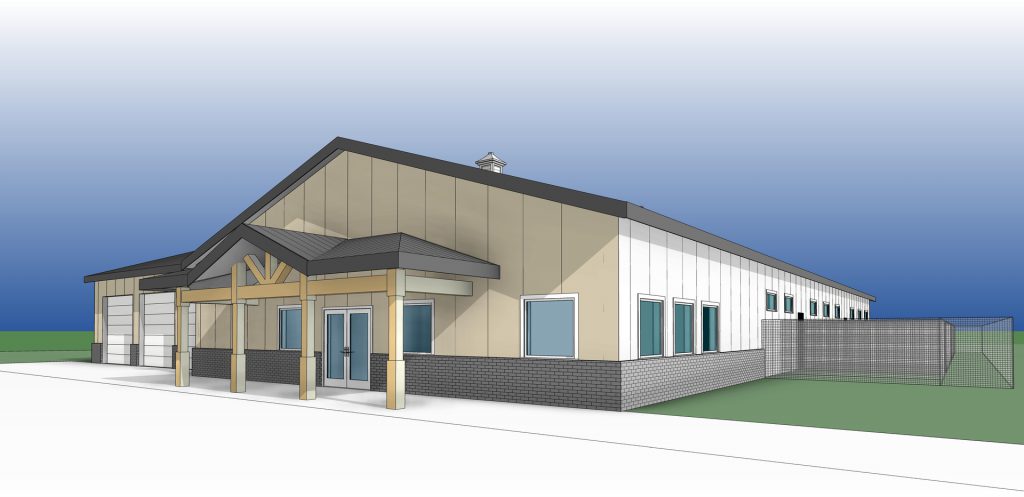 Dog Bones and Buildings
Quests like these don't happen overnight. AHeinz57 Board President, Mark Gilchrist, said the team began the conversation about a new building over two years ago and seriously began planning over a year ago. Four acres were acquired in November 2015 and official capital campaign fundraising began at the beginning of 2016.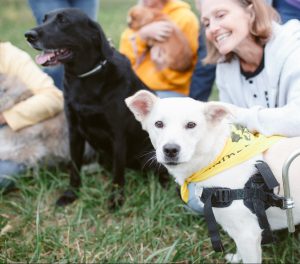 "We originally set a very aggressive schedule, but with construction too heavy in the area, we will most likely begin building in the spring of 2017," Gilchrist said.
Two new buildings will be constructed: a rescue shelter and a boarding facility. The rescue will have 31 suites for dogs, with 16 of those dedicated as "hold kennels" for strays. Two additional suites will be dedicated as "night drop" kennels for local law enforcement to use for homeless dogs they bring in. Plus, there will be a garage for the transport vehicles and additional parking.
The boarding facility, called Gracie's Place, will feature 23 pet suites. Net profits from boarding services will be put towards the organization's rescue and transportation efforts, allowing the nonprofit to be less reliant on donations.
"We've spent the last two years researching facilities and the needs of customers to ensure our facility has all the newest technology available," said Gilchrist. "Security will be a big focus, which will also allow us to offer video streaming of kennels/suites so customers can check in on their pooches."
"We'll also have a cat boarding section—which is not currently available in the area," said Gilchrist. "The facility will also feature a grooming center and two training rooms which will complement our adoption services to ensure our adopted pets stay in their forever homes."
Two suites in the boarding facility will be allocated specifically to pregnant and nursing dogs and their litters.
Beyond the Breeds
To Heinz, Gilchrist, and the rest of the board, the new facility represents a future of community integration at the organization.
"Upon completion of our new facility, we'll be launching several programs targeted at giving back to the community, educating children and pet owners, and supporting our senior citizens," said Gilchrist said.
Lend a Helping Paw
Details on events for the capital campaign will be available on the organization's website (aheinz57.com) and Facebook page. Interested donors can make tax-deductible donations in the form of cash, via the campaign's website (aheinz57build.org) or mailed to PO Box 188, De Soto, IA 50069.
Looking for a furry friend of your own? Adoption events are generally held on Saturdays from 11 a.m.-4 p.m., but the organization recommends checking its web calendar to verify. Because most dogs are in foster care, if you're interested in meeting one of the dogs available for adoption, email adopt@aheinz57.com.