The holidays are steadily approaching, and families are busily making their plans for celebration. Along with the cooking, eating, singing, and general merry-making, many people plan to step outside of themselves and practice generosity during the coming weeks. Of course, there are many wonderful charities that help people across the globe, but there's something special about helping others in your own community—those with whom you share the sidewalk and the check out line at the grocery store.
And, in this season often marked by frenzied consumerism, giving to those in need is an effective way to remind the kids—and ourselves—that the most amazing gifts aren't really things. For those who want to give locally this season, there are two causes in the Waukee area worthy of your attention: the Dallas County Shop with a Cop Program and the WinterFest holiday toy drive.
The Dallas County Shop with a Cop program, hosted by the Dallas County Sheriff's Benevolent, is in its 19th year this season. The program consists of giving around 50 needy children from Dallas county the opportunity to shop for holiday gifts at Wal-Mart. Deputies and police officers escort the kids through the store to help them pick out items. There is also a second part of the program, in which business owners donate baskets of food and toys to families in Dallas County. For more information about this yearly program, including how you can nominate a family or child in need, visit the City of Waukee website. Nominations will be accepted for the Shop with a Cop program through November 28th and for food basket donations through December 12th.
Another local opportunity to give back is taking place during a staple holiday event in our community—Waukee Winterfest. The celebration, which will be on Friday, December 5th from 6:00-8:00pm, will begin at Triangle park for a lighting of the lights ceremony (with Santa!) and then continue with warm food and activities at the Waukee community center. And, to cap it all off, Waukee Parks and Recreation is holding a holiday toy drive at the event, inside the community center. The drive will collect new, unwrapped toys, household items, nonperishable foods, personal hygiene items, and monetary donations. The items will then be donated to the Waukee Area Christian Food Pantry (read our story about the WACFP here) .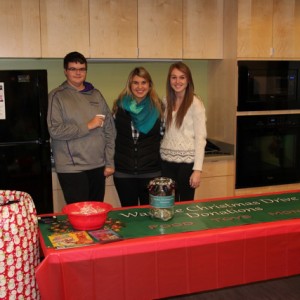 Danae Edwards, of the Waukee Parks and Recreation Department, said that the toy drive, which is in its second year, "stemmed from our Park Board members. They really wanted to be able to give back to the community in a new way." When asked about the importance of this toy drive for the residents of Waukee, Edwards said, "I'm hoping that our kids in our community will be happy and excited every time they place a toy, jar of peanut butter, or a $5 bill into our donation bucket and know that it might be going to help one of their friends, classmates or neighbors have a more exciting holiday season."
Edwards also expressed hope that the toy drive will make an impact on those who will receive the gifts: "I'm sure this time of year can put added stress on parents who are trying to meet the basic needs of keeping their kids warm and bellies full plus trying to provide the latest, new toy on the market—but I hope that the parents and the children who receive our donations realize that our wonderful community is willing to help during this festive season."
As you and your family are planning for the holidays, make sure to check out these local opportunities to spread the joy of giving. In so doing, you'll be participating in those things that last far beyond the Christmas tree or the melting snow: compassion, generosity, and gratitude.