I grew up watching A Charlie Brown Christmas, the December television special that delighted my parents when they were children in the same way that it now brings joy to my little nieces and nephews. The special first aired 49 years ago, on December 9, 1965, and it is still considered a holiday-season staple today. It is currently featured on

Hulu

and will be

airing on ABC

on Tuesday, December 16th

at 7:00pm. This short holiday special has continued to captivate viewers year after year, and it's worth pausing a moment to consider why it is so popular.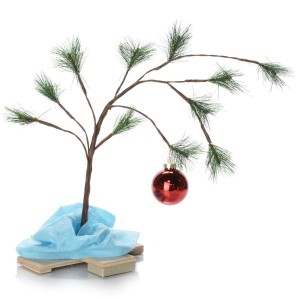 A Charlie Brown Christmas is a story of a Christmas play put on by neighborhood kids who dance to jazz piano music and realize that, like many things, our modern concept of Christmas often misses the whole point. Over the course of the thirty-minute special, Charlie Brown tries to grasp the real meaning behind the over-commercialized version of Christmas that he sees in the world around him. He knows he should feel happy, but he doesn't. His friend Lucy solemnly tells him that, even with all the toys, she never gets what she really wants for Christmas, which is "real estate." His own dog, Snoopy, enters a Christmas lights and display contest in hopes of winning a cash prize.
Charlie is invited to direct the Christmas play, which threatens to become permanently derailed due to lack of focus by the actors until Charlie's friend Linus walks to the center of the stage and, under a lone spotlight, recites Jesus' birth story from the gospel of Luke. Then Charlie's friends, who had made fun of him for choosing a real (albeit strikingly humble) Christmas tree, follow him outside and remake the sad little tree into a festive Christmas display.
It's a story that appeals to many because of its sincerity and simplicity—we tap our toes along with the Vince Guaraldi jazz music, we root for Charlie as he picks the saddest-looking tree in the lot, and we smile as the kids show Charlie the newly-decorated tree and shout, "Merry Christmas, Charlie Brown!"
Though the special has enjoyed success with television audiences for nearly five decades, some will be surprised to know that, during its premiere, the executives behind the project feared that it would be a flop. Charles Shulz, the creator of the Peanuts characters, butted heads with the producers of the show over some of the most important elements of the special. He insisted that the characters be voiced by children rather than adults, he refused to take out the reading from the Gospel of Luke, and he rejected the use of a laugh track. Because of this, the producers predicted that they had a disaster on their hands. However, due to time constraints and previous television promotion of the special, it aired, and producers were shocked at its immense popularity with both critics and viewers. It won an Emmy award and has been playing on televisions across America each December since 1965.
Certainly, the special doesn't appeal to everyone—my husband, for example. But for those of us who can't resist Snoopy's dance moves or Linus' solemn recitation of the Nativity story or that droopy little tree with the single red bulb, A Charlie Brown Christmas will remain a perennial favorite.