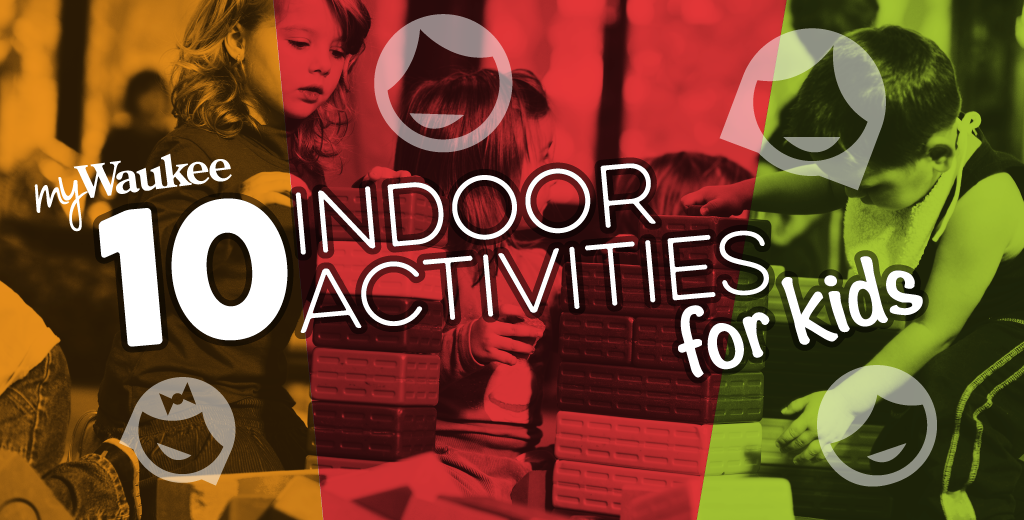 Winter in Waukee, IA means just about one thing, freezing cold temperatures. Unless you want to turn your children into a kid-sicle (see what I did there?!), it is always a good idea to have a list of tried-and-true indoor play places to burn off energy and keep your sanity!
Our top 10 list of indoor activities for kids, covers children ranging from toddlers to school-aged as well as a wide variety of fun-filled ideas!
1600 Valley West Dr., Ste. 100, West Des Moines
Phone: (515) 223-5867
Hours of Operation: Mon-Sat 10am – 8pm, Sun 11am – 6pm
Monkey Joe's is jam-packed with inflatables perfect for kids 12 and under. Your kids are sure to burn plenty of energy while bouncing for hours! For those with littles, there is a designated toddler area with age-appropriate activities!
101 Jordan Creek Parkway, West Des Moines
Phone: (515) 440-6255
Hours of Operation: Mon-Sat 10am – 9pm, Sun 11am – 6pm
Looking for a no fuss, FREE activity for the kids? Jordan Creek Mall has a wonderful kids play area where your kids can play and then you can get some shopping done when they are tuckered out! With a full-food court close by, you can grab a bite while you are at it!
4069 121st St., Urbandale
Phone: (515) 270-5017
Hours of Operation: Mon – Sun (Times Vary), Open Jump times are posted every Thursday
Pump It Up is primarily used to host birthday parties, however they do open their doors for Open Jumps and various themed events throughout the week. With giant inflatables your child is sure to jump their sillies out!
Waukee Public Works Building, 805 University Avenue, Waukee
Phone: (515) 978-0007
Hours of Operation: Mon 8:30-10:30am & Wed 8-10am (thru March 30th, 2015)
From blocks to tunnels, Tot Lot is just the place to keep your toddler entertained for hours! This open gym activity for your tots is seasonal and FREE!
3135 99th Street, Urbandale
Phone: (515) 270-2433
Hours of Operation: Monday-Friday 10am – 5pm
Ever wish you could bring your outdoor swingset inside for the winter months? Well Backyard Adventures is your wish come true! Complete with indoor swings and slides, your kiddos are sure to have a blast! There is a snack area so pack a lunch and stay a while!
2401 SE Tones Dr. Suite 7, Ankeny
Phone: (515) 965-9899
Hours of Operation: Mon, Wed, Fri 10am – 8pm; Tues, Thurs 10am – 4pm
Wacky ball pit, triple rainbow slide and indoor treehouse? Yes please! The Playground For Kids truly lives up to it's name providing endless fun for kids of any age!
1300 SE Gateway Drive, Ste. 103, Grimes
Phone: (515) 986-2524
Hours of Operation: Tues 3 – 8pm; Wed 1 – 8pm; Thurs, Fri 3 – 8pm; Sat 10am – 9pm; Sun 12 – 6pm
Looking for a sure-fire way to get those big kids out of the house? Sky Zone is just the ticket! This indoor trampoline park combines fitness with high-flying fun! Toddler Time hours are Wed and Thurs 11am – Noon.
1431 22nd Street, West Des Moines
Phone: (515) 223-9430
Hours of Operation: Sun-Thurs 11am – 9pm; Fri 11am – 10pm; Sat 10am – 10pm
Where a Kid can be a Kid is right! As a special treat or fun outing, plan a visit to the West Des Moines Check E. Cheese's for food and fun. From arcade games to entertainment, CEC has got you covered!
4444 Fuller Road, West Des Moines
Phone: (515) 327-6000
Hours of Operation: Mon-Fri 9am – 1pm
The Valley Community Center has a built in play area designed specifically for children toddler-aged to 8 years old. This space is perfect for getting active on a cold day and comes complete with plenty of seating for adults and conveniently located near the Cafe.
101 Jordan Creek Parkway Unit 12170, West Des Moines
Phone: (515) 453-2980
Hours of Operation: Mon-Sat 9am-9:30pm; Sun 10am – 7pm
Barnes and Noble is a fantastic spot to entertain the kiddos and instill a love of reading early on. From story times, train tables to cuddling up with a good book, B&N is a top cold-weather-activity pick!
What are some of your favorite indoor spots to play in Waukee / West Des Moines?